We Have Lots and Lots of things to do here, So Please take your time and Enjoy!
If you Use any of my images from this site please give credit where it is due.
NO DIRECT LINKING TO THIS SITE!
You must save any images you use from this site to your own harddrive or server.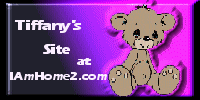 Use this link to link for this icon www.iamhome2.com/smurfie.html


Email Me